Satisfaction Guaranteed or your Money Back!
Solar Powered Flashlight and Phone Charger - Waterproof-Floats - HybridLight-Journey 160L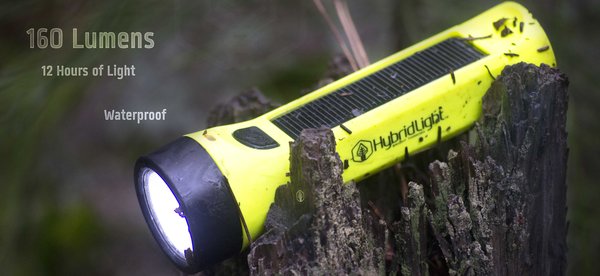 Description
Never Buy Batteries Again!
This is the best flashlight you will ever own!
This is the very latest version of the Hybridlight JOURNEY 160L Flashlight! Other
versions have less powerful solar panels! This is the latest and greatest.
I am a retailer for HybridLight. I sell these lights because I am a customer first
and a definite fan of this company and product second. I only sell products I create myself
or products I believe in. This super light weight (4.5oz) rechargeable flashlight is
awesome. Never get caught with dead batteries or without a phone charger ever again!


Here are some of the specifics:

Lifetime Guarantee (never buy another flashlight!)

Charges mobile phones and other devices via USB

Never buy batteries again! Rechargeable Lithium Ion Battery (2400 mAH Li-ion battery).

Put this flashlight in a drawer or a bugout bag, come back in 7 years, and it will still hav

e 90% of its power!

Super Bright LED Bulb (160 lumens)

12 hour run time before needing to be recharged.

Recharge with any light source including a camp fire! Or you can just plug it in using a micro USB and


rapid charge it.


The retail price on the company website is $39.95.
Colors available = High Visibility Yellow, Black or Pink